Sales, distribution and support of premium KNX brands
Design and consultancy by certified KNX Engineers. installation, programming and commissioning of the KNX system
After sales service and maintenance
KNX is the international standard for the intelligent electrical installations that is gradually replacing conventional electrical installations.
Affiliated Standards: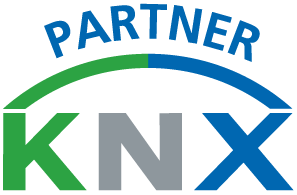 KNX system is the intelligent solution for networking and controlling home technology. Because of the automation, central control and linking of various functions, the system provides more comfort, security and energy efficiency in the building.
With KNX installed one can control lights shutters and blinds, heating, air-conditioning, ventilation with just one system. Easily with the use of one button or automaticly the intelligent house can behave in the way you want saving up energy and time. KNX is applied in residential buildings as well as office buildings and hotels.
Our company was the first to deliver an EIB/KNX project in Cyprus in 1996. In the same year we became KNX partners (No 1993) and certified by the KNX association in Brussels. We have delivered a wide number of products with various applications including office buildings, hotels car parks and residences.
Some of the applications achieved were light dimming, shutter and blind control,temperature monitoring, air-conditioning machine monitor and control etc.